Post by Gretchen Holmes on Oct 28, 2013 20:52:19 GMT -8
Bahir

The Basics

Show Name:
Bahir
Barn Name:
Bahir
Age:
9
Gender:
Gelding
Breed:
Mostly Thoroughbred, but his sire was an appaloosa and his great granddam on his dam's side was a friesian
Breed Registry:
N/A

The Appearance
Coat Color:
Light Grey/White
Stable Color:
Navy
Height:
16.3 Hands
The Personality

Personality:
While Bahir isn't nessesarily a dangerous or hostile horse, he doesn't know his own size or strength and therefore can become a bit of a danger to his handlers in his eagerness to do things. He is a very natural jumper, never wanting to touch a rail. He is slightly hard mouthed, which makes it difficult to correctly set him up for jumps. However he makes up for this by overjumping, and is therefore usually able to make it through a course cleanly. If not kept on a regular riding schedule, Bahir can become very anxious and upset. He needs to be constantly excersized, otherwise in his boredom he may begin kicking the stall door. When on a constant working schedule, he's gentle as a kitten and is completely bomb-proof, never spooking at anything. People used to call him the war horse at his old barn due to his lack of fear. His favorite treats are carrots, and when put to pasture he must be kept under close supervision, as he has been known to jump the fence.
Caution Around:
Feeding time can be dangerous, as Bahir may unintentionally bite in his excitement to eat. Also do not stand in front of him while tacking up, as he has been known to run over people eagerly trying to get out of his stall.

The History

Basic History:
Bahir was born and raised at the same stable Gretchen learned to ride at. His mother was a dapple grey thoroughbred mare, with a very gentle nature and a generally calm disposition. In his early years, her quietness helped keep Bahir himself calm, and therefore handling him was never a problem. However once he was weaned, he began to grow headstrong and mischievous, and often liked making people run laps around his pasture before finally allowing himself to be haltered. For this reason, his owner feared he may be an aggressive stallion, and had him gelded. Bahir's training was slow, starting with just basic halter work and handling. Gretchen often helped with this proccess, and when the time came to break him she was the first person to ever sit astride him. The two of them learned together, causing Bahir's hard mouth to develop due to a young Gretchen constantly pulling at his mouth on the flat and then when learning to jump. Bahir was thought to be too much horse for Gretchen due to being overly eager and reckless on jumping courses, however by the time he was 6 years old he had calmed down slightly, and Gretchen bought him. He remained boarded at the farm however, until Gretchen moved to Blue Ridge for school. Bahir being stabled at Blue Ridge will be the first time he has ever been away from the farm where he was born, and Gretchen is very curious to see how he reacts to the new farm, and the to the shows she is planning on entering with him.
The Technicalities

Discipline:
Jumping, Eventing, Very Basic Dressage
Owner:
Gretchen Holmes
Rider:
Gretchen Holmes
Chaos' Prodigy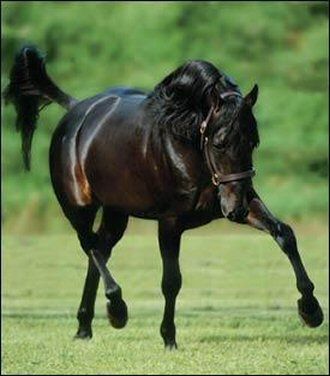 The Basics
Show Name:
Chaos' Prodigy
Barn Name:
Pegasus
Age:
8
Gender:
Gelding
Breed:
Thoroughbred
Breed Registry:
Jockey Club
The Appearance
Coat Color:
Black
Stable Color:
Undecided
Height:
16 hands
The Personality
Personality:
This gelding is, in one word, nurturing; he would rather work with his rider then bossed around by his rider. He sees the best in everyone, which could be his main downfall. He has great ground manners and loves all the affection he can get. However, he loves to roll, with or without a rider on board.
Caution Around:
Big dogs, though it is advised to keep all dogs in general away from him or him away from them.
The History
Basic History:
Pegasus' life began the normal way for most Thoroughbred horses. He was born on a racing stud and was handled as soon as possible. He was rushed through his training and was already working on the track before he was even a yearling and then raced as a "yearling" (he was 18 months rather than 12). His trainer was patient though, and never worked the horses harder then they needed. It seemed though, that by his second year, Pegasus wasn't cut out for racing, and was picked up quite cheap at the market by a woman who wanted a horse for her daughter. Pegasus then moved to a riding barn where he was reprogrammed and trained for dressage and show jumping. His new trainer however, wasn't as gentle and patient as his last trainer and no matter how hard this gelding seemed to work, the train was quick with the slaps, and that is just what Pegasus expected after a while.He didn't do too well with the girl, didn't place first often enough, and was quickly sent to the auction. Pegasus may have what it takes to be a great horse, with the right kind of rider.
The Technicalities
Discipline:
Show Jumping, Dressage
Owner:
Gretchen Holmes
Rider:
Gretchen Holmes