Post by Stern on Nov 10, 2013 10:36:30 GMT -8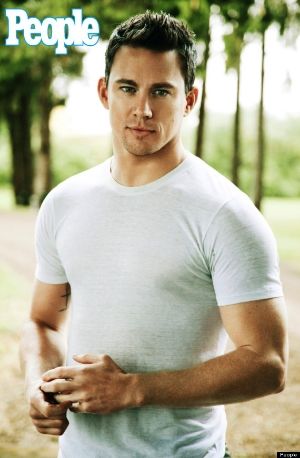 TOBIAS
ULRIC
XAYARATH
<<Played by
Stern
>>
Shine a light through an open door
Full Name>> Tobias Ulric Xayarath
Nicknames>> Tux, Tobi
Age>> 4/28/1968; 45 years
Staff or Student>> Staff; EPB Head Barn Hand, Foal handling instructor
House>> Brown Ribbon
Gender>> Male
Sexuality>> Heterosexual
Face Claim>> Channing Tatum
Turn away 'cause I need you more
Personality>> The first thing you'd notice about Tobias, or Tux as he prefers to be called, is his confidence. Rarely does this man not know what he's doing. Strike up a conversation, and you'll find him to be outgoing and very friendly. He loves talking to other people, and would rather work with other people, or at least around them, than by himself. However, this doesn't mean that he's one of those people that doesn't shut up. He does have his times where he prefers silence, but those are far and few in between. According to him, he is slightly clumsy, and his depth perception is lacking, especially closer than twenty feet from him. However, this is an elaborate lie, covering for his lack of vision in his left eye. Confront him about it and he'll deny that he has issues, although look at his license and you'll see that you're right. For that reason, he rarely visits anywhere where he might need to show his ID, and even when shopping, he pays in cash rather than credit.
Likes>>
Working with foals
Cats
Trail Rides
Sunglasses
The colour blue
Dislikes>>
Pity
Halloween
Running into things
Stallions
Small details
Having to look people in the eyes
Contacts
Fears>>
People figuring out his disability and pitying him for it
Losing sight in his other eye
Hopes>>
Figure out a semblance of depth perception again
Work up the courage for an enucleation surgery
Secrets>>
He's blind in his left eye
It's the way I'm feeling I just can't deny
Appearance>> Okay, you can't deny that Tux is good looking. Standing aqt six foot one, he's not overly tall, although he has his times where he stands out of the crowd. He's not overly thin, but a healthy weight, with well-toned muscles that he refuses to let fall away, no matter what else might happen. His hair is short and brown, matching his also-brown eyes. Just by looking at him, you would never be able to guess his secret, although sometimes his left eye doesn't seem to be focusing correctly on what he should be looking at. This problem is solved through his wearing sunglasses most of the time. His style is dressed-down, shirt and jeans, fitting for where he works, and has worked for most of his life.
Markings>> N/A
But I've gotta let it go
Medical History>> Bacterial Keratitis, leading to vision loss in his left eye, at age 37
Criminal History>> A few traffic tickets over the course of his life, nothing bigger than that.
Full History>> Tobias was the second oldest of five children growing up, living in a normal home. His family was never rich, ans sometimes all he had was hand-me-downs from his older brother. However, not getting new clothes meant there was money for Christmas presents, so he rarely complained, and his stoicism in that respect made sure that no one else said anything else either. In school, he did well, keeping his grades up, and he had quite the number of friends.

After high school, he worked on his Administration of Justice major, working hard to keep his tuition paid and a roof over his head. He had vaguely entertained notions of entering the police force, but by the time he had finished his major, he had latched on to another plan. However, his grades and test scores were just a little bit away from what was necessary for entrance to law school, so he didn't get into that profession.

Somehow, he ended up apprenticing under a farrier. Not even he is sure how it happened, since he had no exposure to horses growing up. However, there he was, learning how to shoe the beasts, and in his spare time, learning to ride as well. Slowly he worked his way up to partnering in his mentor's business, and they became friends.

One fateful Halloween, he was persuaded by his friends to come to a party they were hosting, dressed up and all. A woman that was interested in him (and he in her) persuaded him to buy coloured contacts from a friend of hers who designed them, and knowing no better, he did. The party was a success, the aftermath, not so much. Tux started having some irritation in his eye that wouldn't go away. First, the doctors thought it was pink-eye, and treated it as such, but as it didn't go away, they had to look deeper. Bacterial keratitis was considered to be the issue, and while they did finally catch it, it was too late. He had lost total vision in his left eye due to damage to the optic nerve.

It was a hard transition for Tux. He got the motions alright, but it was hard for him to admit to his lifelong friends that he could no longer see out of one eye. He stuck it out for two years, scraping out a living by doing odd jobs, but then, he decided that he couldn't work like that anymore. Instead, he cut all ties with his home and instead moved to another state, finding a stable to work at, basic barn-hand duties. When the riding stable shut down due to monetary issues, he found himself at a loss again, and finally ended up at Blue Ridge.
We found love in a hopeless place
Pet Name>> Fred
Registered Name>> Dark Angel, CGC, CGCA
Age>> 4 years
Species>> Canine
Breed>> Golden Retriever/Husky
Registry>> AKC-CGC, AKC-CGCA, TDI
Personality>> It's very easy to tell what two breeds are in Fred. He's got the smarts of his husky father, while his affability and willingness to please are distinctly Golden. Combine the two, and you have an obedient dog who works well on leash and off, and is willing to try everything to please his handler and everyone else. He's very easy-going, and rarely has issues around anything, although there is a bit of a secret lurking beneath those fuzzy ears. Fred is terrified of thunderstorms, as in, hide in the corner and cower until they've gone away terrified. There is no historical reason for this fear, but it is insurmountable for this canine.
History>> Well, there has to be something said for accidental litters. Fred was born when a dog show competitor came by to visit his first owner's home, with her intact male husky in tow, ready for the show. It was an accident, the homeowner's daughter let one of the breeding females out. Two months later, there were three pups, mutts that didn't have a place with the breeders. They were quickly sold, and the incident was never spoken of again in that house.

Fred, however, landed in good hands. His new owner was a man that was looking for a dog to take all of the way, hoping to bring him to visit his ailing grandmother, and other sick patients in hospitals. So, they started with the CGC, but before long, Fred was proving that he excelled, and they moved on to the TDI. Upon receiving the certificate, the pair began visiting hospitals around their home, brightening the patients' days.

However, it was a few short weeks after Fred had attained his CGCA as well that his owner got into a car crash coming home from work. His owner was killed, and Fred was left with the man's sister, who wanted nothing to do with the dog. She did her best to sell him, and Fred found his way to Will. However, soon after, the man found another place of work, and Fred couldn't follow. Rather than risk trying to find a home off-campus for him, he was given to Tux, and has recently finished his TDI evaluation.
Appearance>> HERE