Post by Gretchen Holmes on Sept 3, 2015 18:07:41 GMT -8
So this year I'm in a racing and training program at my college, where we take care of, ride/train, and help race actual thoroughbred racehorses. Some of the horses belong to the school, some of them belong to clients who pay the school to break/train/or even rehab their horses. (So yes, we also are going to be breaking some yearlings in the winter, which I'm sure'll be lovely). So far I'm loving every second of it, though I have cuts, bruises, and welts that make it seem like I'm in an abusive relationship with these horses instead XD
First up, here are my assigned care horses. These are the two horses that I have to clean stalls, give baths, tack, and basically take full responsibility for. The little bay is a 2 year old filly named Lady, who is the sweetest and laziest little baby you could ever meet. She's the slowest and easiest of the 'babies' to ride, which makes me sad that I haven't had the pleasure yet. The chestnut California Chrome look alike is named Elmo, but we also call him Mumble. He is also one of the slower horses in the barn, I think he's 4/5 but I'm not positive, he could be older or younger than that. Also have not had the pleasure of riding him yet, I am going to ask next week if I can.
Ok, now for the little beasty who has beaten me up so badly and given me all the bumps and bruises and muscle aches. This little girl is 2 years old, and was just broken over the winter. Her name is Delilah, and she's a client horse which means she'll be leaving the barn soon to start her career as a racehorse. As her rider my personal opinion is that she'll be a very good racehorse, she is incredibly fast and built like a tank. On the ground she's as sweet as can be, and enjoys cuddles, kisses, and scratches. But in the saddle, we've been battling it out for the past 3 days. I wouldn't say she is psychotic or behaves badly, but she is fast and wants to go fast, even though the arena we're in isn't really big enough for that. She also gets very easily excited by other horses. Apparently my professor is very impressed by the way I handle myself on her despite her having 'gotten away from me a little bit' when asking to canter (She was not cantering, she was galloping a gear away from flat out sprinting). At least she had a good time, and I didn't die. But yeah, when I am in the Cbox complaining of pain, she likely has something to do with it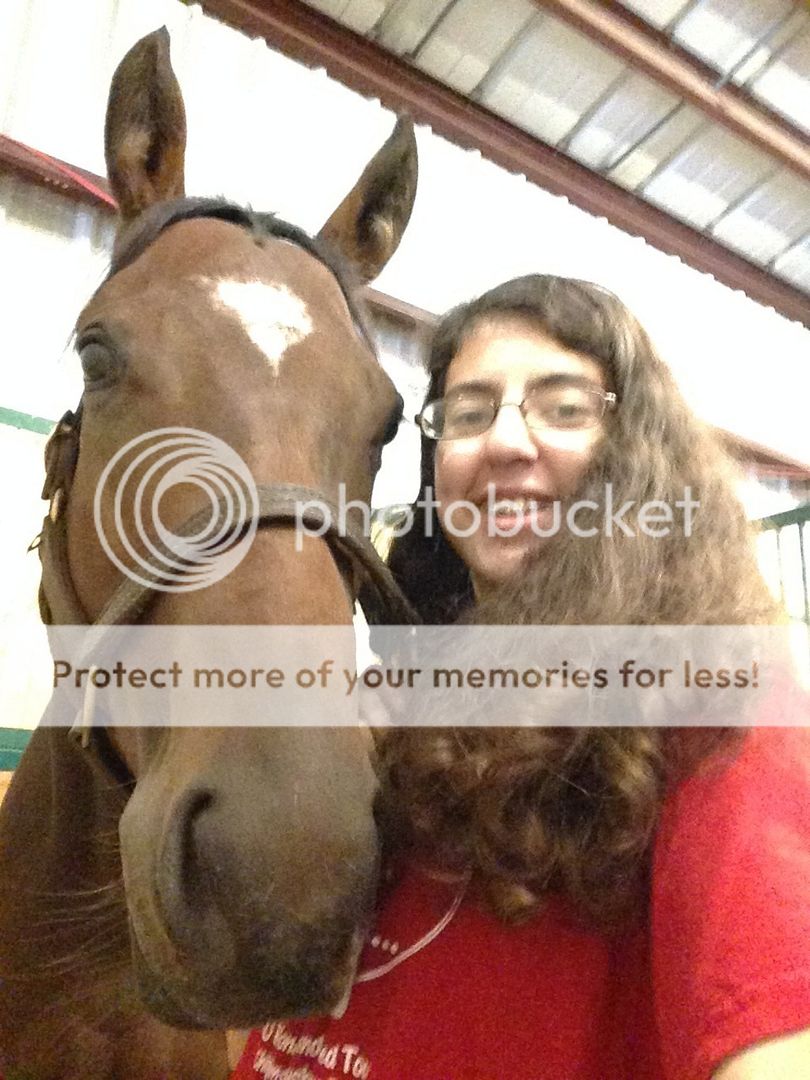 Sorry for the blurry pictures, it's very hard to get good pictures on an iphone of moving horses!!! But yes, that's me on Delilah!