Post by CaraGenie on Jun 12, 2013 19:17:29 GMT -8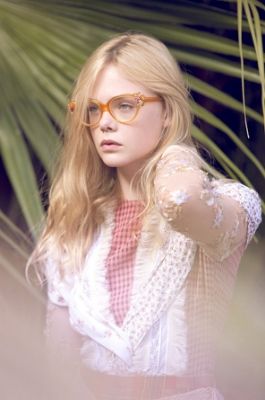 SERENITY
KA'LIYAH
OLIVER
<<Played by
Cara
>>
Shine a light through an open door
Full Name>>Serenity Ka'Liyah Oliver
Nicknames>>Sear
Age>> 21st June; 17
Staff or Student>> Student
House>> Green House
Gender>> Female
Sexuality>> Heterosexual
Face Claim>> Elle Fanning
Turn away 'cause I need you more
Personality>> Serenity is just like her name, her nature is calm and untroubled - she could almost be on drugs at times for how detached to a situation she can seem - though she stores everything away. This is a girl who bottles up everything. As peaceful and calm as she seems, she has a lot of secrets that she has hidden under the surface. She doesn't make friends easily, due to past "friends" making fun of her once they learn that she's a witch.
She is very bookish, and would rather hide behind a book than start a conversation, but isn't rude enough to pretend she can't hear people.
Likes>> Candles, Horses, Rain, the Moon, the smell of the air before it rains, Drawing/sketching (though she only does her artwork in her Book of Shadows), Toso Kune Do
Dislikes>> Thunder, Gossips, Catty girls, being away from her brother, Wet Weather
Fears>> Tommy finding out what happened to her. Snakes
Hopes>> To graduate with honours when she finishes High school, To harness her inner power.
Secrets>> She's a witch. Was attacked at their last school
It's the way I'm feeling I just can't deny
Appearance>> Blonde and green eyed, she couldn't look any more different from her twin if they had different skin colours, and her height of just over five feet doesn't help - especially when Tommy is always referring to her as his "little" sister. She loves wearing dresses, and when she can't get away with a dress a peasant shirt will do. She wears slightly oversized glasses - contacts when riding - and always has her pentacle necklace around her neck.
Markings>> A scar diagonally cross her hand.
But I've gotta let it go
Medical History>> Normal childhood issues; chicken pox, measles, had tonsils out.
Criminal History>> Nope
Full History>> Parents, two children house with a white picket fence, that could pretty much describe the Oliver house, just their house was a mansion - it had the picket fence though.

Serenity grew up with the freedom that most children crave. Although they had house rules, the Oliver children were left to their own devices, as long as - when they were old enough - the chores were done, homework completed and classes attended.

Most people said that Mr and Mrs Oliver were hippies, but Serenity let her brother put people straight, that they were witches. It was this that set the Oliver twins apart from everyone else. Serenity loved the lessons that they had every afternoon once school was over, and would spend hours in the basement of their house for hours until she had perfected whatever spell she was working on.

It was around the same time of the church fire that Serenity also found herself in the wrong place at the wrong time. She found herself along with her brother's biggest problem, the varsity football team. They said they just wanted to talk, and by the time that the young teenager found out that they wanted to do more than talk it was too late, she was in a secluded place - she had found a grove in the middle of the small plantation behind the Oliver property where she like to go to connect with the universe - and the high school boys easily over powered her, telling her that they would do worse if she ever told anyone.

Even to this day, Serenity hasn't breathed a word of what happened to anyone, not even her Book of Shadows - that she writes in about everything - doesn't even have the proof that she was raped.

Where Tommy connected easily with animals, Serenity's gift seemed to be with candles and flames. Although she couldn't light candles by just looking at them, she could alter the size of the flames. She did have a strong connection with one animal though, and that was her familiar.
We found love in a hopeless place
Pet Name>> Luna
Age>> 6 Months
Gender>> Female
Species>> Feline
Breed>> Domestic Shorthair
Personality>> Just like how her brother's personality matches Tommy, Luna's matches Serenity's perfectly. The kitten is shy and timid about everything. Rather than going out to meet new people, she would rather hid in the darkest corner.
History>> Luna's mother arrived at the Oliver house on a very wet and stormy night, heavily pregnant and very weak. Only two of the four kittens in the litter survived and the mother vanished as mysteriously as she had arrived, leaving behind the two surviving black kittens.
Appearance>> HERE and HERE