Post by Kipling Nevarra on Dec 21, 2015 23:11:08 GMT -8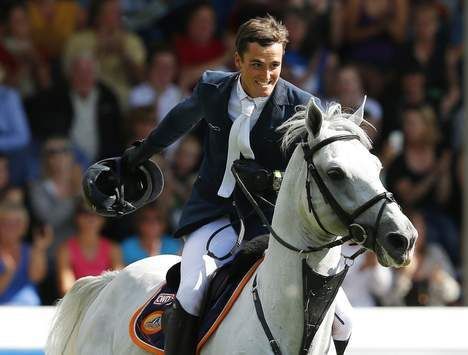 Kipling
Tyler
Nevarra
<<Played by
Kat
>>

Full Name>>Kipling Tyler Nevarra

Nicknames>>Kip (does not go by Kipling)

Age>> 12/3/2000; 16

Staff or Student>> Student

House>> Blue Ribbon House

Gender>> Male

Sexuality>> Heterosexual

Face Claim>> Olivier Philippaerts

Personality>> The best way to describe Kip is through his appetite. He has an insatiable hunger for everything beautiful- horses to girls, but most notably is his hunger to do well in the realm of show jumping. He's difficult to please, and his earnestness about the sport may come off as rude on occasion. His strong desire to do well in the competition ring puts off many friendships, and his competitive drive often sends a person in search of better company. Kip loves to insist his methods (and the methods he has been taught) are far superior, and his temper may flare up in the wake of a disagreement. He believes he knows what's best for himself in any aspect, be it academic or in leisure.

He hates to be made a fool, and would rather feel any other emotion other than embarrassment. He is fiercely loyal to his friends, and is vocal in academic settings. He does not have a sense of humor, doesn't know what it is, or where he put it- but his mother, Annemarie, pokes fun at him for being too serious (his face before a class is the look of death, and she likes to stand at the in-gate and motion for him to smile).



Likes>>

Selle Francais, BWP, and Zangersheide (favorite breeds/registries)

Animo brand clothes

building and designing courses

dogs (namely, his dog)

girls in white breeches

Audi

the violin

Wes Anderson films

reading


Dislikes>>

video games

mathematics

disagreements (rather, anyone that disagrees with him)

American muscle cars

country music

flights longer than four hours

chocolate

politics

the name Maggie (ex-girlfriend)

Fears>>

Disappointing his trainer mother and trainer grandfather

Losing classes/competitions

ponies (his words: "Satan's little helpers")

Hopes>>

To prove himself a better and more capable rider than most at Blue Ridge

To amass his own string of top jumpers for European competition

To make a name for himself outside of the realm of his family clout

Secrets>>

He is terrified of riding anything under 14.2 hands. Whether it is due to his own personal height (and the fact that shorter ponies can spin out from under him), or the deviousness of ponies in his experience, he is difficult to persuade to ride a pony.
He loves Disney. He doesn't mention it in mixed company, but if there's one way to guarantee a smile, take him to Disney World, buy him something with Tigger on it, or watch a Disney film with him. He can't help himself.
His celebrity crush is Adriana Lima.



Appearance>> Kip would not be considered short by any means. Towering over his mother at 6'1", he was thankful for long legs and a balanced torso. He is wonderfully capable of wrapping his legs around a horse, and is thankfully able to balance better without being top-heavy. He is slender, and has a killer smile (when he uses it). His arms aren't incredibly long for his stature, and his fingers are elegant without looking aged. His brown hair might be best described as mousy brown, while his eyes sparkled a deeper brown. His hair is kept short and touseled without product. He really likes blue sweaters. Always wears a wristwatch and wears Nike trainers when not in riding boots.

Markings>>Burn scar on left forearm (being stupid/playing with fire), scarred elbow from skinning it on a fence post, freckles in the sunlight.

Medical History>> Broken wrist from a skiing accident. Allergic to shellfish and peanuts. Removed tonsils. Gets sick (flu or severe cold) every fall due to stress.

Criminal History>>Speeding ticket (his parents took the car away for a month, and he had to ask for rides or take a bicycle).

Full History>>Kipling Tyler Nevarra was born on a rainy December morning, on the third of the month in 2001. As the eldest child of property magnate Herve Nevarra and Annemarie Nevarra (nee Bartels), Annemarie proclaimed him as her superstar rider from the moment he opened his eyes. Simply put, Kip was born to be a horseman. His Belgian grandfather (Klaus Bartels) and mother are both established and successful trainers and coaches in the realms of show jumping and hunters/equitation, respectively. Kipling has experienced great successes in the Equitation ring in the last three years.

Kipling spends a month every summer in Belgium as a groom and schooling rider for grandfather Klaus, and as such has developed a keen eye for young stock and aspires to be a great judge as well as a great rider and trainer. While Kip has been given a world-class education, a wealthy upbringing and a string of horses with which to ride and compete by his parents, Klaus would not stand for what he believed to be "spoiled American parenting". Klaus loves his grandchildren dearly, but as far as Kip was concerned, the boy was there every summer to work and to learn, not given a free ticket to the summer competitions. And so, Kip was humbled- mucking stalls, taking charge of feed and ordering more supplies as needed, staying up all night for foal-watch, grooming for sporthorse testing and shows, and anything that Klaus deemed necessary for Kip to understand as a barn manager. Kip was exhausted by the work, and when it came time in the day (rather, at the end of it) for horses to be ridden, his judgment would fail him, he would be out of energy and patience, and until this past summer, he was not be permitted to ride much at all. This past summer was finally time for Kip to get a taste of European competition, and the normal barn duties were slowly shifted to his thirteen year-old brother, Karl (under the watchful guidance of Ludo and Klaus).

Klaus Bartels has reached great heights in show jumping and sporthorse breeding, and as such has established a small farm in Belgium from which he now trains, produces, and imports horses for a living. Annemarie was destined to take over the business, until she eloped with Herve to America, developed an interest in hunters and equitation, and began training privately for wealthy families in Florida, where she has now been able to establish her own clientele with Nevarra Equestrian. The Bartels business is now passing to Annemarie's brother Ludo, and while she still has the support and assistance from her family, she is tied to America and the new life she has built.

Coming back to America for the rest of the summer circuit brought Kipling sorrow, for he so deeply admired his grandfather and uncle and aspired to someday run the Bartels business. He has even taken to grandfather Klaus' mannerisms, a serious, gruff way of appraising breeding stock, and his sense of humor (of which, there isn't much that Klaus finds funny). Kip is, however, quite excited to further his equestrian and potential business-savvy by coming to Blue Ridge. While Annemarie is certainly going to miss his help and company at home and at Nevarra Equestrian, and Karl isn't quite yet the rider that Kip is, she is certain that Blue Ridge will give Kip the edge he needs to be competitive in the show jumping and the business sectors in Belgium when he is ready.

Pet Name>>
N/A
Registered Name>> If applicable

Age>>

Gender>> Male/Female

Species>> Canine; Feline; Rodent

Breed>>

Registry>>

Personality>> At least one good paragraph

History>> At least one good paragraph

Appearance>> Picture