Post by Esmeralda Fittz on Jan 31, 2017 16:35:05 GMT -8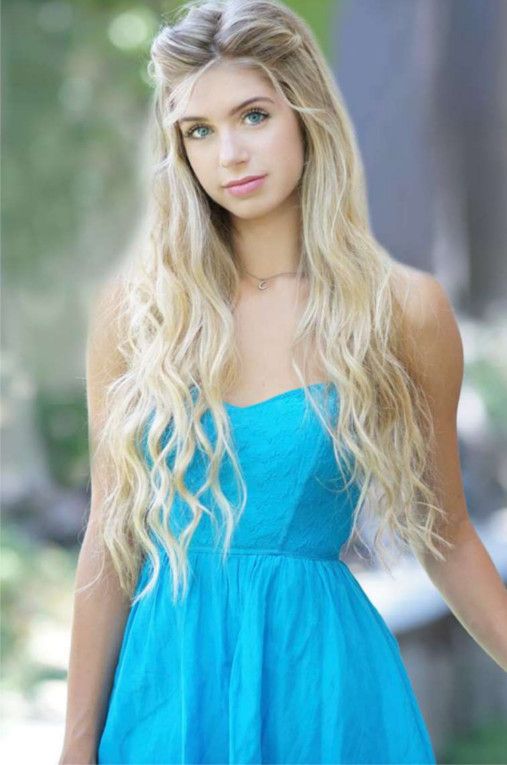 Esmeralda
Jade
Fittz
<Played by
Ivy
>

Full Name>> Esmeralda Jade Fittz
Nicknames>> Esme (Refuses to be called anything else)
Date of Birth>> 09/22/2001
Staff or Student>> Student
House>> Red Ribbon House
Gender>> Female
Sexuality>> Straight
Face Claim>> Allie Deberry

Personality>> Esme is, to put it simply, your average teenage girl. Full of spirit, just a bit naïve, and with the typical 'I know better than my parents' attitude. While she can't be called outright stupid, she does have a tendency to be a bit air-headed and a klutz on top of that. She's very friendly and easy to get along with and many would argue that she's the best person to go to when you need a shoulder to lean on. Soft-hearted, she never hesitates to help those in need.

However, despite her soft-heartedness, she isn't very easy to upset. She's quite capable of taking the heat in strides and simply letting it roll off her shoulders. But, push her too far, and there may be no hopes of you getting along anymore as she can hold a grudge for a concerning amount of time. Even though she's fairly nice, she still has a temper and she's not afraid to use it. Her biggest temperamental issue would be jumping to the first thing she thinks of that she knows will cut deepest. After that point has been reached, don't put it past her to avoid you, even if you're willing to make amends.

Esme is very quick to replay her embarrassments in her head, almost obsessively at times. She's her own worst enemy when it comes to making mistakes and will often times obsess over a particular task, scenario (past or future), or upcoming event until it's over or she worries herself sick. She likes to set the bar high and aims to meet everyone's standards, though she's quickly learning the impossibility of such a task.

She's a girl who enjoys her alone time. Whether it's being curled up with a good book, spending hours at her computer, or just sitting in silence while looking out at the world, any alone time is good time. But, she still likes to socialize and can often come off as over-eager when making friends or building relationships. It can sometimes even seem like she's trying focus all of the attention on herself, and sometimes she does. This means that people often have a good impression of her at first, but are quick to write her off as annoying for her excitable nature.

Likes>> - The color green
- Books
- Long-sleeves
- Technology
- Summer and Autumn
- Science
- Sweet tea
- Mashed potatoes, potato logs, fries, pretty much anything potato!
- Chocolate
- Rain
- Sleep
- Parties
- Mornings
- Politics
- Coffee

Dislikes>> - Driving
- Swimming
- Barking dogs
- People who are rude, downright mean, or otherwise a bully.
- The smell of hair salons
- Discussing private matters
- Falling below someone's standards
- Most insects
- Math
- Winter
- Heavy winds
- Loud cars
- Country music

Fears>> One of Esme's biggest fears is to be in a riding accident in which she barely survives and the horse does not. She also fears death and the dark, like most people.

Her more irrational fears are being attacked by a shark (hence why she doesn't like swimming)or being wheel-chair bound for life.

Hopes>> Esme aspires to become a national barrel racing champion and own her own barn facilities one day. She also hopes to build a loving family and only marry once in her lifetime on top of travelling the world and making an impact on at least one person.
Secrets>> She had a very brief fling with one of her teachers.

Appearance>> Standing at 5'4" and weighing in at 120lbs, Esme is a particularly petite girl, with curves in all the right places. She has long, slender legs with an almost too long torso sitting atop. Her arms and shoulders are also quite slender. Her skin is fair most of the time, though she doesn't mind adding a little tan to her flesh every now and again.

Big, blue eyes sit inside her almost square shaped face with full cheeks and lips, and a somewhat short nose. Her cheeks are almost always a natural rosy color, unless she covers it up with makeup, which is usually the case.

Her style mainly consists of summer dresses or jeans and a tee. Her wavy, sandy blonde hair is dyed a much lighter shade of blonde, though she doesn't mind letting her roots grow out to create an ombre effect. Usually dressed on the more 'hipster' side of things, she does her best to create her own unique style with as many items as she can manage into one outfit. She almost always wears either boots or vans, except for the few occasions where she decides to throw on a pair of wedges or heels.

On days where she'd really prefer to be left alone, it's not unlike her to wear clothes that help her to better blend with those around her. These outfits are usually a pair of plain jeans and a hoodie with her waist length hair put into the best bun she can manage, which usually turns out looking like she just tossed a mop on top of her head.

Markings>> A scar on the inside of her left arm, just before the crease in her elbow.

Medical History>> Typical childhood illnesses (stomach viruses, chicken pox, colds, etc.)

Broke her left arm in a riding accident at the age of 15 in which bone cut through skin. She also received a concussion and two cracked ribs from the incident.

Full History>> Esme was born in a small town in Alabama where her mother trained horses for a living and her father was a car salesman. Growing up an only child, she had a relatively easy life, though she wasn't always the easiest child to handle. She was a whirlwind of spirit and temper, just like her mother. Something her father often times pointed out.

For the most part, Esme's childhood was typical. Long days with the horses after school and warm, home-made dinners with both parents every night before bed. Weekends off school were spent dallying with friends or riding the horses. The entire world was at her fingertips and really, there was nothing more she could ever want.

She made many friends in school and had very few enemies. Though there was the occasional clash between her and some of her fellow students, she never managed to get herself into a fight, even though she had been sent to the principal on many of those occasions for spewing profanity at whoever was unlucky enough to cross her path the wrong way.

She wasn't the smartest kid in school but she was definitely among the list of them. She was also very active in a few after-school activities including track and the school's event planning committee for students. In such a small school, it wasn't hard to know what name went with which face, but Esme always desired a little more than that from her peers.

Her life changed drastically when she was 15 years old. After moving to a more secluded area in the state, she caught the eye of her English teacher, Taylor Metzer, who gave her special treatment above everyone else. It was one of those things that everyone seemed to notice but her, arguing instead that her "special treatment" was just his appreciation for her hard work and willingness to succeed in her academics. Some found his behavior towards Esme downright suspicious, but none wanted to speak about it.

After a riding accident in which her horse took a misstep that sent them tumbling down a gully, she ended up with a concussion, a broken arm with bone protruding from her skin, and two cracked ribs. The horse came out of it bloody and lame, but managed to recover from his injuries in no time. Esme was by his side every moment she could spare and in turn, her parents were right by hers. In school, she received much needed help from her friends and teachers, but none more so than Taylor. He was young, charming, and handsome. She was much younger and naïve. After helping to care for her through the ordeal, Esme couldn't help but become smitten with him.

A very secret (and very brief) fling eventually came of their mutual fondness for one another. It only lasted about a month when his girlfriend at the time showed up after school hours to surprise him. When she came across his classroom and noticed all the blinds were covering the windows and the door was shut completely, which was unlike him, she decided to be secretive about her entrance and discovered Esme straddling him on the desk and the two of them engulfed in a heavy make-out session. Her gasp was the only thing that notified them of a witness and the two quickly jumped back from each other as she stormed out of the room.

After the three of them had a long sit-down and everyone told their story, the girlfriend decided to tell Esme's parents and let them decide the fate of her teacher. When Esme's parents found out, they were horrified and appalled. They questioned Esme relentlessly and ultimately decided after Esme's side of the story was told to not turn Taylor in since the situation had transgressed mutually. They immediately moved her to another school.
She was only there for two months before her parents discovered she was still talking to and seeing Taylor. This time, her parents did not hesitate to file a report. His (now ex) girlfriend agreed to testify against him and Taylor was sentenced. When the court case was finally settled, Esme's parents decided to send her to BRRA, where she could still be with horses, but also were no one could cast her out or would know of her dark mistake. However, the best perk for them was that it was far enough away from Taylor without being too far from home.


Pet Name>>
Registered Name>>
Age>>
Sex>>
Species>>
Breed>>
Registry>>
Personality>>
History>>
Appearance>> Picture