Post by Deleted on Jun 5, 2017 7:09:05 GMT -8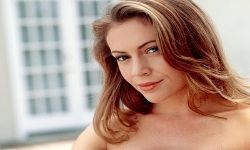 Raine
Amirra
Talson
<Played by
Raine
>

Full Name>> Raine Amirra Talson
Nicknames>> Rainey
Date of Birth>> 11/13/1992
Staff or Student>> Staff
House>> The apartments
Gender>> Female
Sexuality>> Hetro
Face Claim>> alyssa milano

Personality>> Raine is sweet and gentle when it comes to horses, yet when it comes to people, that is a whole different ball game. Horses are the way to calm her down, yet if she isn't around horses there will be problems if her RSD/CRPS starts to act up. Raine use to drop everything for someone and be willing to listen to whatever problems her friends had, but now, she can't handle the things she use to.
Likes>>~Rain -thunder -lightening ~Riding bareback with Dusty -Reading ~Riding Nicca
Dislikes>> ~When anyone tells her she can't ~Anyone messing with Dusty ~Anyone messing with her friends -anyone downing her ~ Anyone messing with Nicca
Fears>> ~Losing Dusty again ~Being alone
Hopes>> Learning to ride better and learning more
Secrets>> She calls Dusty her boyfriend and will tell that to anyone she is dating. She'd even put her Duster above her boyfriend.

Appearance>>She has brown-blonde hair, normally she can be found with a cowboy hat when she isn't riding. Blue jeans and a flannel are her normal clothing choice. She has blue eyes that changes with her moods, she normally weighs anywhere from 119-125 pounds. She can be found with her hair in a pony tail but while she has her pink helmet with a jumping horse on it her hair is down, it comes to about shoulder length. She can only wear cowboy boots which can be brown, black or a low boot that is black and gold with designs on it. She is about 5'1".
Markings>> earrings and a wolf tattoo on her right shoulder

Medical History>> RSD/CRPS (reflex sympathetic dystrophy/complex regional pain syndrome)
Depression
Anxiety
Full History>> All her life she studied horses and learned as much as she could. There were times when she doubted herself, but she got past those. From 4 years old; she was wanting to have a therapeutic riding center to getting older and still having that dream and being a vet; she worked hard and was ready to do what she could. She had the support of her grandparents and mother as well as he sisters, but her father was not in the happy picture, he had vanished when she was just around 2 years of age and still to this day does not claim her as his child. She has two other siblings that she has no contact with. Raine's mother and grandfather, whenever they went to the fair would let her ride the ponies and from there on it just kept going,but only worse. They then started to give her riding lessons as she when she was in middle school and once she finished those, they paid for more lessons only at a camp. In high school, she then started to shadow at one of her local vet clinics and was determined to become a vet, but she gave that up for the moment for her job. Raine had gotten a job at a camp and it was her first day at the camp that her and a co worker had went out and started to round up the horses. As she watched the horses go by, it was a buckskin gelding that stopped and stood in front of her. Raine believes in things that no one else does, she believes a horse will choose his own rider and to her this gelding had chosen her since he was letting her stand in his blind spot. As time went one, she found that she was right in her guess and he would make the whole herd go around him so he could watch her. As time went on, she and Dusty had started to get closer and closer, she could tell he was heart broken and she wanted to help him. One day she told him she loved him. During that time, her mother had found where they could adopt a mustang, her mother, her grandfather and herself all when to look and that was where she had fallen in love with yearling colt. Raine knew that she would have to work hard to be able to train it, but she was determined to juggle this and her job. It was some time in December that her boss had sold her beloved horse and later in January she had gotten hurt. A horse had come out of nowhere and crushed her foot. Later she found that no bones where broken. In February she found out she had RSD/CRPS. She spent almost four months laid up and a walking cast on, but she knew she had to fight to find Dusty again. she knew that Dusty was her horse in physical form and now that she needed the help to keep fighting her invisible disease. Not too long after she got back on her feet and around horses that she found her missing boy. She knew the reason why she never had found him while she was laid up, but now that she had him back, she was never letting him go She again found her Dusty and ever since the two have been inseparable. Dusty normally helps Raine in any training she helps out with. Packing up and loading her Duster and Nicca into a trailer, she headed out in search of a place she could live without having anyone getting onto her about her problem. She had started out to be in Montana but it wasn't where she wanted start a new life.

Pet Name>> Kali
Registered Name>> none
Age>> 9-10 months
Sex>> Spayed Female
Species>> Feline
Breed>> unknown (rescue)
Registry>> none
Personality>> Kali is very much a mommy's girl, she will come to her mom before she even begins to go to someone else. She is very playful and can easily make new friend with animals. She is kind of scared around dogs, but other cats, she is very friendly and playful. Kali is very untrusting when it comes to strangers and will have to have some time to get use to you.
History>> (This is from what I can remember) Kali was dropped off at a restaurant back in October very close to Halloween. She was very small and cold, wanting attention. She had to have been about a month old. A friend of Raine's had brought her to her, wanting Raine to find a home for her but Raine had fallen in love with the little one and soon was able to keep it around her birthday.
Appearance>> Picture