Post by Ben Hall on Mar 4, 2013 14:52:53 GMT -8
Cloudy in London
The Basics
Show Name:
Cloudy in London
Barn Name:
Lady
Age:
7 years old
Gender:
mare
Breed:
Danish Warmblood
Breed Registry:
NADWA
The Appearance
Coat Color:
Dapple Gray Tobiano
Stable Color:
Popcorn Yellow
Height:
16 hh
The Personality
Personality:
Lady is the sort of mare who is set in her own quirky ways. She's antsy in her stall and always needs to be occupied with something or she will drive herself nuts. She's better off just being in the pasture, despite what the weather is like. She is known to paw at her stall and make a loud banging noise that many become annoyed with. She'll always check for treats, and Ben will often bring her peppermints and pears, which are her favorites. Despite her being so antsy, she is much stiller around Ben, which is odd considering his jumpy nature. She's terrified of birds, and will also do her best to stay away from dogs.
When ridden, Lady is just as touchy. She demands to be given enough space to make her own judgments, but she needs enough guidance to get her distances over tough fences. She'll get snippy and throw bucks if her rider is too tough on her mouth, and will not tolerate spurs or whips of any kind. She needs a light rider who can help her accomplish her job without getting in her way. Ben took a little while to learn to manage her, but now he rides her seamlessly and they make a good team. Lady's style is also nice, and she is a very neat jumper. Her stride is on the shorter side for her size, so she's able to make tricky turns. Lady is best at jumpers though she can make her way nicely through a hunter course.
Caution Around:
birds, dogs, spurs, whips
The History
Basic History:
Lady was born on a big farm that produces the horses that are seen on the show circuits all over the east coast. She was trained there and eventually sold to Ben's trainer, who rode Lady himself for a little while, but mostly let his daughter ride her. His daughter soon found a horse for herself and no longer rode Lady. In the meanwhile, Ben had recently sold his horse and was trying horses to try to find a new one. His mother had always admired Lady and got Ben to try her when she found out that she was to be sold. Ben was hesitant to try the mare with her flashy looks and odd habits, but he gave her a chance. His first ride on her went terribly, but to his mother's surprise, he rode her a couple more times and eventually decided that he wanted Lady despite their first impressions. Sure enough, he eventually learned the best way to ride her and improved himself in the process.
The Technicalities
Discipline:
Show Jumping, Hunter/Jumper
Owner:
Benjamin Hall
Rider:
Benjamin Hall
Zodiac Prophecy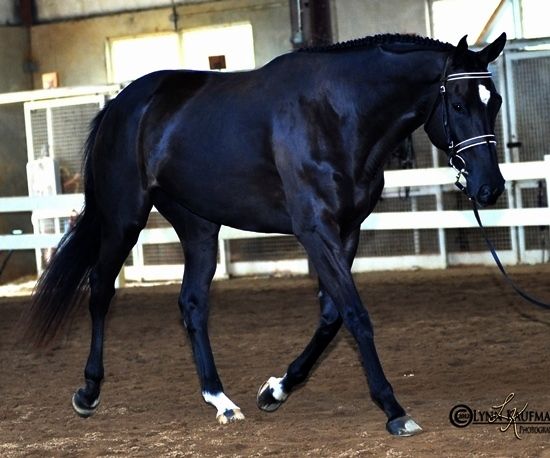 The Basics
Show Name:
Zodiac Prophecy
Barn Name:
Ram
Age:
6 years
Gender:
Gelding
Breed:
Anglo-Arabian
Breed Registry:
AHA
The Appearance
Coat Color:
Black
Stable Color:
Hunter Green and White
Height:
16.3 hh
The Personality
Personality:
Ram's been there, done that... Or at least, you would guess he had! He knows what's expected of him, and strives to do it perfectly, despite his young age. However, that's no excuse for his ground manners, which definitely need some work. He's mouthy, not mean mouthy, but more curious. He'll take anything into his mouth, and nips anyone that comes too close without paying attention. He's not really all too bothered about his rider, either, if you were to fall off, he'd return back home without hanging around. In the pasture, he's the leader of the group, or at least tries to be. Under saddle, Ram is wonderful. He is a great mover and doesn't have some of the quirks that other young horses sometimes have.
Caution Around:
Any sports balls.
The History
Basic History:
Ram has always had a gentle eye, and from the beginning, he was marked for great things. His owner was a small-time horse breeder and owner, just for herself and family, and took pride in the one or two horses that she trained each year, whom she sold on when she found a decent home for them, and felt that they were ready to leave her. Ram was no different, but stuck around a bit longer than other horses, simply because no home was good enough for him, in the eyes of his owner. However, soon enough, he did find a new place to call his own, and was treated as well as could be expected. Not too long after, his owners fell into financial difficulties. Out of contact with his breeder, they had no choice but to sell him. Ben found Ram at an auction and bought him to be his hunter horse.
The Technicalities
Discipline:
Hunter/Jumper, Equitation
Owner:
Benjamin Hall
Rider:
Benjamin Hall